The University Record is published weekly September through April, except during scheduled universitywide breaks. In May, June and July we publish semimonthly; there is one edition in August.We serve tens-of-thousands of active and retired U-M faculty and staff with news and features covering the diverse university community. Approximately 18,000 copies of each issue are printed, and are distributed via U-M Campus Mail, UMHS hospital mailroom deliveries and to 130+ drop locations on U-M's Ann Arbor campuses. A limited number of copies are sent to the Flint and Dearborn campuses as well. Download a PDF map of our Ann Arbor drop /rack locations. Racks are typically located near the main entrance at all major U-M public buildings, and at several nearby coffee shops and restaurants. We send about 8,700 copies of the Record each week via the United States Postal Service to retired members of the faculty and staff community. Download a PDF sample issue.
To advertise:
• Please contact our advertising department (734-764-4342, recordads@umich.edu) to devise a strategy best suited to help you reach your goals. Frequent insertions of a powerful ad is the most effective advertising tactic when you're trying to build your brand or develop a 'top of mind' position for your product or service. To encourage your success, we're offering generous discounts for advertisers who commit to multiple insertions. Click here to see our frequency discounts.
• Choose your ad size and the number of insertions you need to reach your goals.
• Design your ad based on the standard sizes shown below. Please see the Ad Preparation Guidelines section of this page, below, for important information.
• Complete and return an advertising agreement by fax (734-764-7084) or as an email attachment to recordads@umich.edu. Frequency discount contracts require a counter-signature by the Record; single insertions require no Record signature. Download the Record Advertising Agreement. These PDF documents may be completed using Adobe Acrobat, or may be printed, completed and faxed back to the Record (734-764-7084).
• Send your Press Quality color PDF file to recordads@umich.edu no later than 5 p.m. seven days before your target publication date.
We offer ads in seven standard sizes. All ads are full color. Ads with spot colors are converted to CMYK in the printing process. The thumbnail image below may be clicked upon to open a larger image with details on ad dimensions.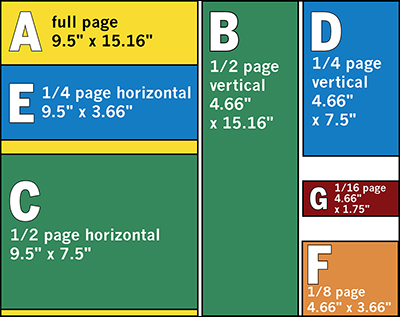 Combination Package
The Record offers a Combination Package that comprises four insertions of an F ad (1/8-page) and the online publication of a 300px x 250px medium rectangle web ad that will rotate with the online ads of no more than eight total advertisers at any given time. The cost of the package is $1,032 for university advertisers and $1,236 for non-university advertisers. Frequency discounts do not apply to the Combination Package.
Rates & frequency discounts
University of Michigan schools, colleges and units (SCUs) and valid non-profit organizations may purchase advertising in the Record at rates reduced from those offered to the general public. To qualify, such advertising must be billable to a valid U-M shortcode (non-profits must provide proof of their non-profit status).
Although the Record gladly accepts single insertions of advertisements, we strongly recommend an ongoing publication campaign for the best possible return on your investment. To encourage such schedules, we've instituted a generous discount program with discounts ranging from five percent to twenty-five percent. Click the image below to enlarge the rate tables.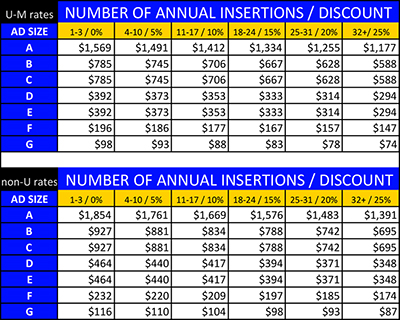 Advertisement preparation details
Careful design and attention to mechanical details can increase the effectiveness of your campaign. Please consider the following as you prepare your ad.
Use Press Quality settings when exporting the final PDF from your design application. Please don't confuse 'Press Quality' with the 'High Quality Print' setting in the Export function.
The utilization of reverse type on a color background presents particular challenges to the legibility and clarity of the final printed product. Unless these specifications are followed when creating your final PDF file, the Record cannot guarantee the quality of the printed advertisement, and thus cannot be responsible for less than satisfactory results.
We surround each submitted ad with a 1pt black stroke upon placement in the Record. Please don't add borders or strokes to your ad before submission.
 
All fonts used must be embedded in the PDF. Please avoid using fonts under 7 pts., reversing type under 10 pts. and using serif type below 12 pts. in reverse. Do not use 'Registration Black' (also known as 'Rich Black' or '4-Color Black') as a type color; only use a true black. Type reversed out of two or more overprinting colors should be no less than 14 pts. Color type that is created by overprinting process colors should be no less than 14 pts. Color text should be 10-point or greater and contain only two of the process colors (CMYK). Reverse type on a color background should be 10-point or greater on a background containing at least a 60 percent tone value. Type reversing out of a four-color background should be avoided whenever possible. We recommend that you do not use serif fonts when reversing type.
Please refer to detailed information within the PDF linked below. 
Download a PDF containing ad preparation guidelines>
Your 1/4 page-or-larger print ad entitles you to get your message online. The Record delivers ads to desktops, tablets and mobile devices via our record.umich.edu companion website. For desktops and tablets we require a 728px x 90px Leaderboard banner; a 320px x 50px Smartphone Static Leaderboard is delivered to appropriate mobile devices. Your ad will rotate with those of other eligible advertisers from the current issue; the frequency of appearances of your online ad will be relative to the size of the print ad purchased. Each ad will appear on University Record online web pages until the page is refreshed. We'll also need your target URL for clickthroughs. We provide quarterly web metrics with impressions and clicks.
The Record online receives approximately 80,000 pageviews in a typical month, with an average time-on-page of nearly two minutes. Many readers come to the Record online by opening and clicking on story headlines within our daily email digest, sent to more than 49,000 members and affiliates of the university community. The open rate of that email is typically over 30%. To subscribe, please send an email to urecordupdate@umich.edu. If you click on this link, the subject line of the email message will automatically be populated with 'SUBSCRIBE.'
Online ad creation is the responsibility of the advertiser, and ads are due by 5 p.m. Monday one week prior to publication. Deliver to recordads@umich.edu.
Online ads are not available as a standalone purchase.
General details
Single insertion advertisements may be contracted by transmitting the signed agreement to the University Record. Advertisers seeking frequency discount rates must transmit this signed agreement to the University Record to be co-signed for acceptance of terms based on discount rates found above.
Advertisers will be billed monthly, and will be liable for payment for all agreed-upon insertions, notwithstanding actual insertion status (unless non-insertion is the fault of the Record). Rate differences incurred as a result of unused contracted insertions in any discount category will be billed at contract termination. Additional requested insertions may require a separate signed contract.
The advertiser shall indemnify and hold harmless the Regents of the U-M, its agents and employees, from and against any and all actions, claims, liabilities, demands, damages, costs and expenses, including court costs and attorney fees from the publication in the Record of advertising material furnished by the advertiser.
The Record will not accept advertising for political candidates or issues, tobacco or alcohol products, or items in contradiction of the University's mission. Ad placement is at the editor's discretion. The Record is not responsible for non-publication of late advertising submissions. Publication does not imply endorsement. The Record reserves the right to reject or cancel any advertisement. Advertisers assume all responsibility for content. Ads must be clearly recognizable as such, or they will be labeled 'Paid Advertisement.'
Placement is at the editorial staff's discretion.
Cancellations and alterations cannot be made after 5 p.m. seven days prior to publication.
U-M Media Co-op Advertising Program
The University Record presents excellent marketing opportunities for the successful promotion of events, programs and brand awareness for University of Michigan schools, colleges and units. Your University Record print advertising schedule will reach current and retired faculty and staff members, as well as educated and engaged area residents.
The Office of the Vice President for Communications offers supplemental funding to U-M schools, colleges and units for qualified university marketing campaigns. The U-M Media Co-op Advertising Program will allow for enhanced advertising budgets for new advertisers as well as those who renew their advertising commitment.
Download and review complete co-op information here; contact Danielle Jones, University Record sales manager at danirj@umich.edu.
2017-18 Publication Schedule
2017

September
5, 11, 18, 25
October
2, 9, 16, 23, 30
November
6, 13, 20
December
4, 11

 

2018

January
8, 15, 22, 29
February
5, 12, 19
March
5, 12, 19, 26
April
2, 9, 16, 23, 30
May
7, 21
June
11, 25
July
2, 23
August
13
2018-19 Publication Schedule
2018

September
4, 10, 17, 24
October
1, 8, 15, 22, 29
November
5,  12, 19
December
3, 10

 

2019

January
14, 21, 28
February
4, 11, 18, 25
March
11, 18, 25
April
1, 8, 15, 22, 29
May
6, 20
June
10, 24
July
15, 29
August
12