Aspen logging at the Biological Station
In a hardwood forest at the northern tip of the state's Lower Peninsula, U-M scientists are testing ways to make the region's forests more resilient to climate change. About 12,000 mature trees — mostly aspen — are being cut on 77 acres at the U-M Biological Station near Pellston. In this video, Luke Nave, assistant research scientist, and John Den Uyl, research specialist, both in the Department of Ecology and Evolutionary Biology, explain why the Adaptive Aspen Management Experiment is replacing some of the century-old aspen with a mix of tree species and age groups that may be better equipped to handle a warming climate, extreme weather events, and stresses such as insect pests.
D-SIP showcase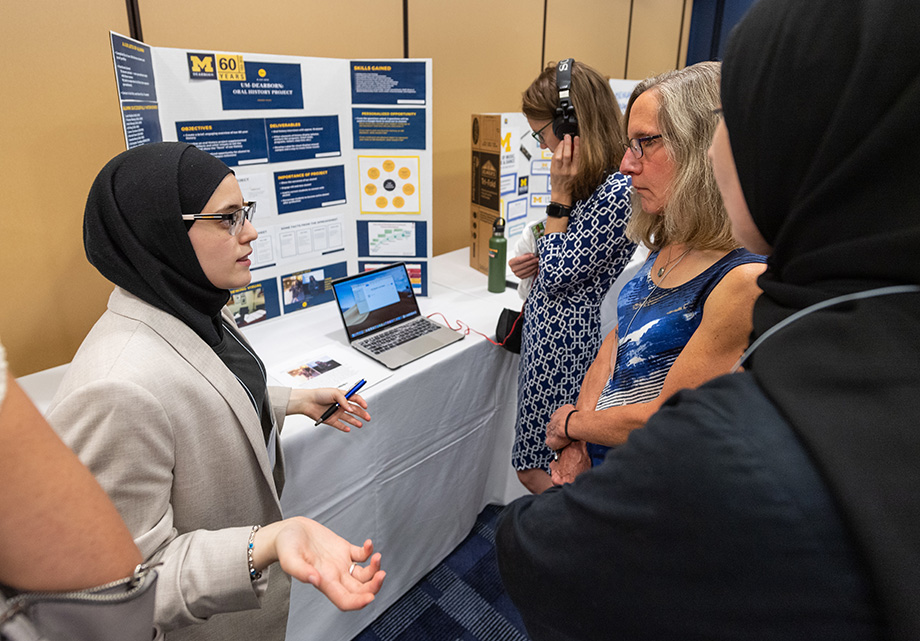 Amanda Saleh, an incoming junior at UM-Dearborn's College of Arts, Sciences, and Letters, and an intern at UM-Dearborn, presented her fundraising project at the annual Development Summer Internship Program showcase Aug. 2 at the Junge Family Champions Center. Saleh interviewed alumni, gathering success stories for UM-Dearborn's 60th anniversary oral history project. She's speaking with Ann Blakeslee, a professor at Eastern Michigan University and a member of the Dobson Committee, which selects the nonprofit partners that host D-SIP interns. Saleh was one of 22 interns participating in D-SIP this summer. (Photo by Scott C. Soderberg, Michigan Photography)
Doctors of Tomorrow
As the U.S. population becomes more diverse, the medical field has been slow to reflect this change, even though research shows that quality of care increases when patients have doctors who look like them. This video explores an effort to address these changing demographics and improve the future of health care. Students from Cass Tech High School in Detroit are being inspired to enter the field of medicine through the Medical School's Doctors of Tomorrow program.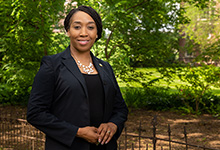 Faculty/Staff Spotlight
"I think men are handed a rulebook just like women. I would love to be one of the people who helps rewrite the rules for us all."
Daphne Watkins, associate professor of social work